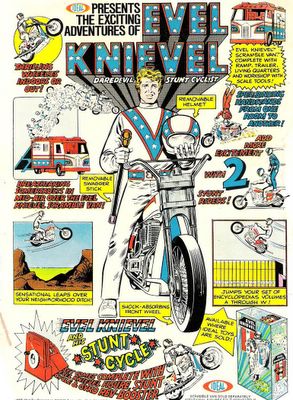 Just a lame little post today - I'm just spent from that
J.U.D.G.E.
thing and I need to take it easy, recharge.
Here's the Evel Knievel stunt cycle, which my friend had. If memory serves, you launched Evel and his stunt cycle out of the "Rev-Booster" and tried to make him jump over shit. We soon escalated to launching Evel into brick walls, then swimming pools, then at piles of dog poo, until finally climaxing in a glorious kerosene-fueled blazing death jump off my friend's garage. Viva Knievel indeed! That little fucker was tough!
Plus, miniature Evel Knievel came with a
swagger stick
(see above) which was really big in British Colonial India back in the day. I believe those are called "pimp canes" now.
But even miniature Evel Knievel had his limits. For instance:
That's right, it could jump a standard encyclopedia set -- up through the letter "W." Jumping all the way to XYZ? That's
insane
, it can't be done! Don't do it Knievel! Somebody stop him, he's going to kill himself!