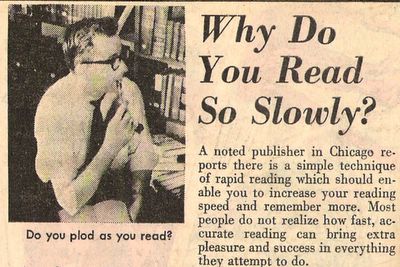 "Bill, you're taking a long time reading that report. Why do you read so slowly?"
"I don't know, boss. I'm fuckin' plodding over here!"
"You know, Bill, a lot of people don't realize how fast, accurate reading can bring extra pleasure and success in everything they attempt to do."
"Everything? Will fast, accurate reading bring me extra pleasure and success with the ladies? Or how about with golf? Will it make washing my large dog any easier?"
"...no, Bill."
"Okay, then."
"Just read the report if you can, idiot."