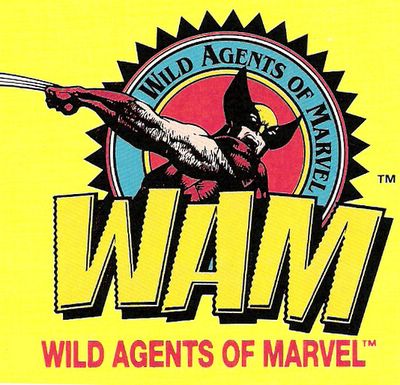 In 1991, Marvel announced the formation of WAM! –
Wild Agents of Marvel
– an exciting new fan club in the tradition of FOOM –
Friends of Old Marvel
. In addition to being a fan club for "Marvel zombies", WAM! was an insidious social engineering program designed to keep its members from getting laid.
Experts have proven that there is a direct, inverse relationship between sexual activity and comic book reading among adolescent males. In a 1989 study by The National Institute of Health, researchers clearly demonstrated that the likelihood of having sex with a real girl is greatly reduced by the number of comic books an adolescent male reads. Subjects in the study who reduced their weekly consumption of comics reported a significant increase in sexual activity, while those who maintained a chronic consumption of comics and/or talked about comics to others experienced an unsatisfying, infrequent, or non-existent sex life.
Indeed, of those subjects in the NIH study who read ten or more comics per week, only 6% claimed to have regular sexual activity of any kind – but of that 6%, a whopping 73% claimed that their supposed sexual partners lived out-of-state or in Canada. A staggering 93% of chronic comic book readers in the study said that they had no sexual partner at all, or listed one of their hands as their only recurring partner.
"WAM! was an insidious social engineering program designed to keep its members from getting laid..."
----------


Armed with this data, Marvel created WAM! in an effort to reduce reader attrition and maintain market share by making WAM! members less desirable to potential sexual partners.

Don't believe me? Let's take a look at the full-page WAM! solicitation that appeared in some Marvel books in 1991. The one I have came in Iron Man #275.

WAM! members received gifts like a stationary kit with WAM! letterhead, WAM! Post-It notes, a WAM! cloissone pin to wear to school, a WAM! membership card, and "a knockout four-color WAM! membership certificate printed on parchment paper that… is suitable for framing." Other gifts for WAM! members include a high-quality WAM! watch and the official Marvel satin jacket, so you can rock it Chachi-style. Perhaps the best member gift is what Marvel describes as "the ultimate 'rub-out' item – a Punisher skull eraser." You can make up your own joke.

Potential members of WAM! could fill out an application at a local WAM! headquarters – your neighborhood comic shop. Then potential members could get beat up by the Tough Kids upon exiting their local WAM! headquarters.

The satin jackets, cloissone pins, stationeries, stickers, and other wacky trinkets offered by WAM! were just the start – members also received "a full-color, expandable portfolio that holds everything. It's made of heavy-duty cardboard and has a self-closing elastic fastener"- and repels girls like Kryptonite.

I submit, dear reader, that a young man of that era would be better served by listening to WHAM! rather than being a member of WAM!