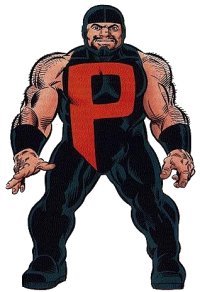 Imagine you're a popular comic book artist/writer of Canadian descent named John Byrne. Don't worry, this is just pretend. You're pitching your new series,
Alpha Flight
, to an unnamed editor at Marvel. Your proposed series features a team of Canadian superheroes that have already appeared several times in
The Uncanny X-Men
. Sounds good, your editor likes it. But wait. You have a new character you want to add to the team.
Editor: "Okay, a new guy. What's his name, what are his powers?"
Byrne: "His name is Puck. He doesn't really have any powers per se, but he's an acrobatic martial artist type."
Editor: "Sort of like Daredevil or something. Why's he called Puck? Is that a Shaekespeare reference?"
Byrne: "Well, he's a little hairy dwarf guy with a misshapen ear that sort of bounces around and kicks people. He wears a black costume... Puck. Get it? He's Canadian. He's like a hockey puck."
Editor: "Stop fucking with me, John."
Byrne: "No, really. Readers will love him. He's been around the block, got a lot of experience, a little bit of attitude. Plus, he jumps around and stuff. Puck, man. Puck!"
Editor: "Umm... I don't know, John..."
Byrne: "Here's a picture of him."
[shows sketch of Puck to editor]
Editor: (Gasp)
Byrne: "What? What's the problem? You don't like him?"
Editor: "Gosh... I don't know what to say, John. Can I see that sketch again?"
Byrne: "Sure. You keep shaking your head; what's the problem?"
Editor: "It just... It just seems kind of stupid, John. Puck. Couldn't you have a polar bear guy, or another Indian or something?"
Byrne: "Look, Puck is on the team or I don't do the book."
Editor: "...okay."
That's probably not what happened, but you see where I'm going with this. Who thought Puck was a good idea? Well, John Byrne, obviously. And you know, when
Alpha Flight
#1 first came out back in the day, Young Dave Campbell thought Puck was pretty cool.
I think I may have been mistaken.
So I put it to you, Gentle Reader:
Does Puck suck?
Or is this just a case of a cynical adult looking back with a jaundiced eye on a character from my childhood and mocking said character for easy laughs? Should I go easy on Puck?
Originally Puck was Eugene Judd, a hirsute Canadian who stood about 3'6", tops. He was sprung from jail to participate in Department H, the Canadian government's superhero program that gets cancelled due to lack of funding. Puck was a member of Beta Flight, who were the minor league team compared to Alpha Flight, Department H's heavy hitters. The founder of Alpha Flight, James MacDonald Hudson (aka Guardian) decides to go freelance, and summons Puck to help them in a battle against Tundra, a huge Godzilla-size monster. Puck shows up late for the battle, which is just as well, because what's an acrobatic dwarf going to do against Godzilla? Get crushed, that's what. Puck joins Alpha Flight anyway, and a Legend is Born!
Seriously, would you have Puck on your superhero team?
He's not super strong, he's not super tough (in the very next issue he nearly gets eviscerated by a teamate during a training exercise), and he's certainly not super tall. He doesn't even have a gun or "Puck rays" or anything. Plus, he's named after a hockey puck, for fuck's sake. That would be like The Avengers hiring a non-powered guy with a pointy head and calling him "Football" because, you know, Americans like the football! How long would you expect Football to last on The Avengers? Exactly - Kang or Ultron would fry Football's ass.
Yet, inexplicably, Puck survives and thrives as a member of Alpha Flight. Look, here he is kicking The Master in the head:
That has got to be the low point of The Master's career as a villain, right there; getting brained by Puck.
One of the fundamental problems I always had with Puck, even as a youngster, was that the guy jumped around like a frickin' jack rabbit, but had no super-strength or anything. I know that this is comics and everything, but seriously, how high can a dwarf really jump? I don't know any dwarfs, but I'm betting they can't jump very high. Yet Puck regularly bounces off walls like Spider-Man, kicking people in the chops. I don't know, that's stretching it a little.
According to the good folks at
AlphaFlight.net
, Puck eventually developed moderate super-strength and nigh-invulnerability. Also, it turns out that Eugene Judd used to be a normal-sized adventurer around the 1900s who tried to steal an evil magic blade called Black Razer, but ended up having to imprison the evil sword's spirit within his body or something - turning him into a dwarf. I'm just guessing, but I bet that wasn't John Byrne's idea - Puck's backstory was revealed after Byrne left the book. Couldn't he just have been born a dwarf? That would've been cooler.
One theory as to Puck's popularity: some people find him sexy. There's a fetish for everything these days. You can't tell me there's not some truck driver somewhere in Minnesota who has pictures of Puck all over his walls. I'll bet there's a newsgroup devoted to naked fan art of Puck. Look at the hairy little bear:
Thankfully, they eventually drew pants on Puck. Really, nobody wants to see that.
So I ask you: does Puck suck? Or am I just being a big meany? Discuss.
[UPDATED: Judging from the feedback I received, almost everyone admits that Puck is kind of goofy, but most have some degree of grudging affection for Alpha Flight's resident "pocket bear." So it looks like Puck does kind of suck, but in a good way. You know what I mean. I should just stop typing now.]