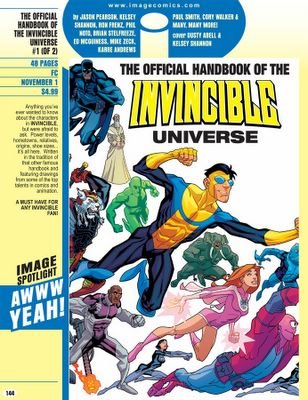 Humor me if you will as I engage in a little self-promotion. On November 1st The Official Handbook of The Invincible Universe #1 (of 2) from Image Comics hits the shelves at your local comic book shop and I want you, dear reader, to buy it. Why? Because I worked on that bastard!
Masterminded by
Dusty Abell
,
The Official Handbook of the Invincible Universe
is an homage to the late Mark Gruenwald's beloved Marvel reference series from the Golden Eighties. It's an illustrated guide to Robert Kirkman's kick-ass
Invincible
comic, detailing all the characters in the series. Everyone's in here, from major characters like Invincible and Atom Eve to minor characters like Octoboss and my favorite, Bi-Plane. Hell, there's even a Science Dog entry.
A host of artists like Jason Pearson, Cory Walker, Brian Stelfreeze, Ed McGuinness, and more contributed new pin-ups for each entry, and
none other than David Campbell himself
(me) wrote many of the entries (particularly in the second issue). I got to join forces with Elliot R. Brown, the guy responsible for the
Book of Weapons and Paraphernalia
from the original OHMU series, which was very cool.
So make sure you order one from your retailer today! The Official Handbook of the Invincible Universe offers hours of reading entertainment, all delivered in the mighty Image manner!!! Enough has been said!
Behold Dusty's cover for the first issue: