And we're back.
I return, staggering back from my hiatus all bearded and wild-eyed and smelling of wet wool. I have tread the Wilderness, my friends. I've been to The Edge. I stood and looked down. A hiatus? No. A vision quest.
A few things first:
Alex Toth
died while I was out! Damn it, man! I feel like, I don't know, like I could have
done something
if I had been here. I'm never going on hiatus again.
I was a huge fan of Alex Toth when I was a kid, even though I didn't know it at the time. I loved the look and feel of
Space Ghost
and
The Herculoids
and all the Hanna-Barbera adventure cartoons. When I grew older I began to appreciate Toth's simple, striking design work. Alex Toth was a ninja master of great skill, and he will be missed.
On the fine site
Comic Art Community
, somebody posted
a bunch of Toth model sheets
for cartoons like
Space Ghost
and
Josie and the Pussycats in Space
.
You heard me right:
Josie and the Pussycats in Space.
Now that is high concept.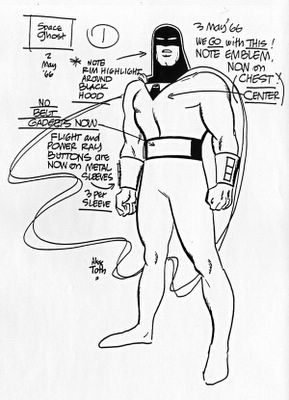 Moving on, go
here
and bear witness to one man's myopic devotion to the Man o' Steel. The
League of Melbotis
is deeply, deeply committed to Superman, in a manner that is both frightening and admirable.
Finally, I am going to make a lot of money and buy this boat: It's the
Ellips catamaran from Elorca
, and I want it.
It's like a
Megaforce AquaRaider
; all it needs is a laser cannon and a big CB aerial. Not only does it look cool, it is bad-ass. The Ellips can do 65 knots. It doesn't have a bridge, it has a
cockpit
! You would have to dress up in some kind of crazy futuristic outfit in order to pilot the Ellips.
I want it so bad. I want it more than I wanted a bionic arm when I was a kid.
Will you buy me one? Please? I will blog about whatever stupid comic you want.
Brute Force
?
Lords of the UltraRealm
?
Jim Nastics
? I will whore myself out if you
just buy me this $170,000 boat!!!
Sorry.
All right, hiatus is over. It's over like Ricky Martin, baby. I am back, and I feel fabulous. I feel
young-Matthew-Modine-good
. I feel
Korvac good
! Now it is on. It's on like Wrath of Khan!
Let's talk about some fucking comic books!