It had to happen! Wolverine vs. Ghost Rider! Holy shit, both of them are so hardcore and cool! And I thought last issue's Wolverine vs. Fonzie battle was cool...
I kid. Actually, the scene depicted on the cover never literally takes place inside the comic. Instead we get a crazy-ass story involving the alien Brood, who have transformed Ghost Rider into a kewl looking Brood/Ghost Rider hybrid that rampages through the huge tunnel labrynth under the city of New Orleans. Throw in a subplot involving Gambit's long lost love, and you have a recipe for Bad Comic Gumbo.
As I mentioned, Ghost Rider has been partially transformed by The Brood - which means that his head turns into a flaming, over-rendered Brood noggin. That might sound scary, but basically The X-Men knock Ghost Rider around the tunnels for about twenty pages. It's a little embarassing, really - he's kind of a chump in this issue. Even Jubilee gets a couple of shots in. When a thirteen-year old valley girl is kicking ass on Ghost Rider, something is wrong. I think he even says,
"Wha-Huhh???"
at one point, which is so sad. The Spirit of Vengeance shouldn't make dumb sounds like that.
Here's Cyclops using Easy Rider for target practice:
X-Men
#9 also features the first appearance of a strange new power for The Beast. At one point, Ghost Rider is ineffectually menacing Jubilee and The Beast comes to her rescue. The blue-furred X-Men makes with some funny quips -
- and then punches the ground so hard it causes an earthquake!
Not just any earthquake - look carefully. Is that lava? Heat from the Earth's core perhaps? That's right, it's a
frickin' volcano-earthquake.
It's just like DragonBall Z!
The Brood-possessed Ghost Rider is caught off-guard by this new power, and can only manage a lame,
"Wha--?!"
If this comic were a movie, Ghost Rider would do a comedic triple-take, with sound effects.
I think it is an insane and inappropriate new power, but if that's how Marvel wants to roll, who am I to say otherwise? They updated The Beast's entry in the Handbook of the Marvel Universe, so I guess it's canon now:
While battling The Brood in the vastness of underground New Orleans, things get out of hand and the floor caves in, sending our heroes falling into an even more vast network of tunnels and chambers. I had no idea that New Orleans had such an extensive underground.
Not only do The X-Men tumble deep into the porous, cavern-riddled earth below New Orleans, but they are tidily separated into pairs by the collapsing floor. No, seriously. They all roll in different directions as the tunnel caves in.
I cannot wait to visit New Orleans and visit their extensive underground labrynth. I wonder if they do tours. You know, I have learned more about The Big Easy by reading
X-Men
#9 than I did by watching
Hard Target
repeatedly. For instance, I learned that New Orleans looks like
this
in cross-section:
I don't know what Bon Jovi is doing deep in the earth under Louisiana. As far as I know, he's from Jersey. But hey, if X-Men #9 says JBJ is down there, he's down there.
Back to the plot, such as it is. Gambit is conveniently paired off with Bella Donna, a woman he has loved since he was "a pup" who looks like a superhero version of Stevie Nicks. They have some relationship issues to work out - for like,
five pages
. Get some counseling, people. Now I know why Gambit's nickname for her was "Hella Drama."
Apparently they were engaged to be married, but Gambit ditched her, and now Bella Donna's pissed. Chicks, man. What are you going to do? Gambit gives her the LAMEST excuse for abandoning her ever:
"Don't you see, chere - leavin' you t'live your own life... was de only way I had a' making a choice dat was my own."
Wow. What a dick!
First of all - why does he have to talk like that? Can't he get a speech therapist or something? Second of all - what the hell kind of excuse is that?
"Baby, I just had to do my thing. I didn't mean to hit you, baby. Come here, gimme some lovin'."
He's like Ike Turner with a Cajun accent!
Further along the tunnels, we find Psylocke and Cyclops, who share a moment fraught with sexual tension. Back in the Nineties, Psylocke was the obligatory Other Telepathic Woman in Cyclops' life. Here, she flirts with the subtlety of a Girls Gone Wild video.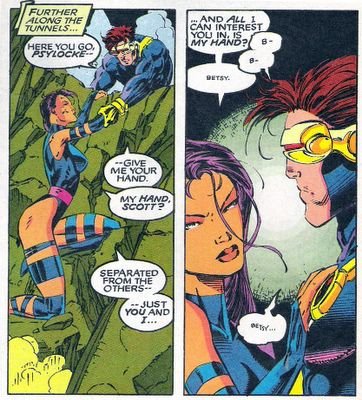 Psst! Cyclops -
I think
she's talking about sex.
But Cyclops is all about the mission, so he blows her off.
Idiot.
In the end, Ghost Rider is cured via a time-honored X-Men tradition: psychic combat. Bella Donna gets gacked by some Brood, but returns in Gambit's solo series. Apparently getting impaled by a huge alien stinger is not as lethal as one would think.
X-Men #9
- discover the geography of New Orleans, marvel at The Beast's new powers, and learn how to talk to women The Gambit Way. And it's all in one comic!