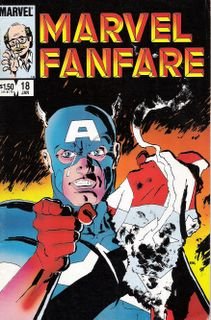 "Mother and country – my favorite underwear! I told you not to iron these, but you wouldn't listen! Damn you, Jarvis!"

Now that is a comic book cover: a Frank Miller drawing of Captain America looking hella-pissed, pointing at the reader, crying tears of righteousness. Somebody is going to get their ass kicked, or at the very least receive a patronizing, long-winded speech from Cap.

I think I've talked about Marvel Fanfare before, but I can't remember. We're coming up on the Dave's Long Box One Year Anniversary Spectacular, and I can't be bothered to remember every post I've made over the past twelve months. It's the oxycontin, you see. Makes everything fuzzy. Anyhow, Marvel Fanfare was a 36-page monthly anthology book that was printed on magazine quality paper with no ads. It ran from 1982 to 1992, and was edited by Affable Al Milgrom. The quality varied wildly, but this issue really sticks out as a high point for me.

"Home Fires" is a melodramatic Captain America story by writer Roger Stern with art by Frank Miller and Joe Rubinstein. A mysterious group of arsonists known only as "We the People" have been burning apartment buildings in New York City, and demand six million dollars from the city in order to stop their campaign of terror. Captain America investigates the arsons and helps out the New York firefighters as only he can.

Here he is saving a kid from certain death with the help of a conveniently placed flagpole: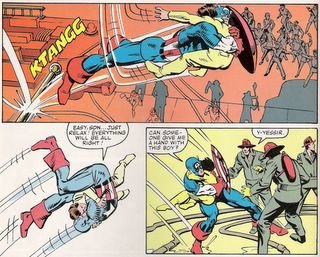 It turns out that the arsonists are actually a bunch of disgruntled working stiffs who are sick of seeing their paychecks buy less and less and their taxes increasing more and more. They're fed up with having to foot the bill for poor people and freeloaders, so they decide to start torching tenements as part of an extortion scheme. The arsonist all belong to The Knights of Brooklyn, a fraternal order modeled after the Masons and The Shriners. You know, it would have actually been funny if the arsonists were really Shriners, rolling up to their next target in tiny little cars and wearing those cute red fez hats of theirs.

Cap finds a policeman's badge at one of the fire scenes, and discovers that one of the Knights of Brooklyn firebugs is actually a cop. There's a great scene where Cap confronts the cop/arsonist as he's getting in his patrol car. The guy tries to escape – bad move. Doesn't he know that Captain America's shield can move faster than his stupid car?

Check it out:
That's a pretty cool scene, yes? I love that page. That Frank Miller, he can put a sequence together.

The bruised and shaken cop spills the beans and Cap rounds up the ringleader and the rest of the arsonists in their Knights of Brooklyn lodge, where they keep gallons and gallons of gasoline. Idiots. The ringleader makes some lame justification for setting all the fires (the most recent being in a nursing home) and then he does something really fucking stupid:

He tries to light the American flag on fire. In front of Captain America.

That gets you a coupon for a free knuckle sandwich, courtesy of the Sentinel of Liberty!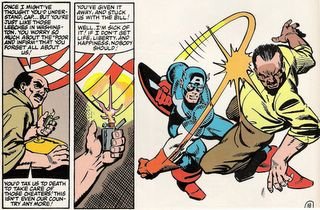 The idiot arsonist ringleader screams "flame on!" and lights himself on fire, igniting the gallons and gallons of gasoline in the lodge. Cap rescues the other idiot arsonists and they all watch the building burn.

But wait! Cap rushes back inside the inferno! What's he doing?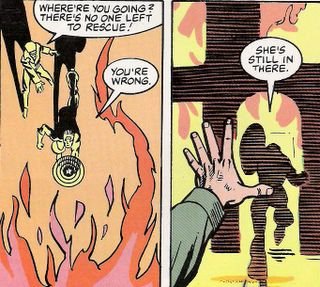 Cue the wailing
Top Gun
guitar music as Cap emerges from the flames in a sequence that still grips my shit to this day: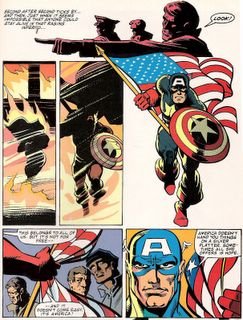 Oh, F@*% YEAH!!!!

Cap risks his life to pull Old Glory out of the burning building, then gives those stupid arsonists a piece of his mind. THAT is how real patriots roll, you crummy firebugs! That's what America's all about, bozos! You think about that while you cool your heels in the slammer, you ungrateful creeps!

Okay, the story is a little over-the-top, but it's a Captain Frickin' America funnybook. If you're looking for subtlety, move along, Mac.

I do have one big issue with this story: The motivation of the arsonists is so broadly sketched out that it's nonsensical. I wonder if the original story idea gave the Knights of Brooklyn more recognizable and ugly real-world political beliefs rather than the homogenous and generic "put-upon working man" bit that the printed story ascribes to them. It seems likely to me that originally the arsonists had radical right wing and/or racist beliefs, but that these were toned down for the kids or to avoid antagonizing conservative readers. That's just my take on it.

Politics aside, you cannot go wrong with that page of Captain America rescuing his beloved flag from a burning building. If that's not a F@*% Yeah moment then I don't know what is.