9. Dr. No
Again, I commit heresy - this time by ranking the first James Bond movie at number nine.
My ranking system for Bond films is totally bias and fickle - I used to rate Thunderball as my favorite of the series, but I watched it again recently and it kinda drags in the second act. Thunderball has a little too much narrative fat in the middle, so now Goldfinger is my favorite Bond movie, again. I've thought about this matter a lot, which is a little sad...
Anyway, my Bondian scene of choice in Dr. No is the death of Professor Dent, one of the good doctor's cronies.
In a nutshell: Bond waits patiently in the corner of a dark bedroom in a Jamaican bungalow, playing solitaire with a gun close at hand. He's set a trap for the killer he knows is coming for him - Bond has pulled a
Ferris Bueller
and stuffed the sheets of the bed with pillows. Sure enough, the sinister, scowling Professor Dent shoots Pillow Bond six times with a silenced revolver. Bond forces Dent to drop his gun and chats with him at gunpoint. While they talk, Dent tries to distract Bond while he pulls his gun slowly towards him on a rug. Dent makes his move - he grabs his pistol and fires at Bond - but it's
empty
, dumbass! Some Professor he is!

With a cigarette dangling casually from his mouth, Bond shoots him.

Bond says, "That's a Smith & Wesson, and you've had your six."

I understand when Dr. No came out in 1962 it was considered a bit racy and violent; I can kinda see why.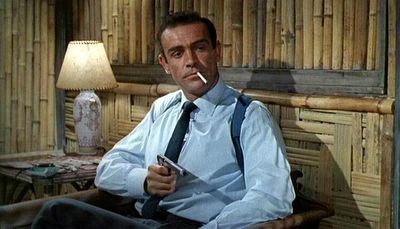 Little Nellie, the mini-helicopter that Bond takes on a recon flight, is so bad-ass that it must be mentioned here. The scene where Bond takes on a pack of SPECTRE helicopters fearlessly treads the line between kick-ass and kitsch. It's a combination of great aerial stunt work and the most banal blue screen special effects this side of The Greatest American Hero. I have to cut the film makers a little slack - it was 1967.
Little Nellie: totally Airwolf.

11. The Living Daylights
The Living Daylights suffers from weak villains, a lack of libido, and a theme song by a-Ha that is so awful it is dangerous to fish. Seriously, that song will kill your tetras.

However, the movie does have its Bondian moments. My favorite element of The Living Daylights is the assassin Necros, a sleek blond killer who meets his demise during a fantastic fight with Bond on a cargo net dangling from the back of a plane at the end of the movie.

My choice for the most Bondian scene in the movie is this brilliant sequence when Necros infiltrates a safehouse in England dressed as a milkman in order to abduct General Koskov (who is really his boss). He is the most hardcore milkman ever. Necros uses the headphone chord of his Walkman as a garrotte and has clever milk bottle bombs. He kills a British agent in a savage fight in the kitchen. Inside the house Necros radios in a report of a major gas leak and in the confusion he "kidnaps" Koskov by switching his disguise from milkman to medic and carting the General away in an ambulance.

The desperate kitchen fight is particularly effective; it's a lethal clash between two professionals and Necros comes out on top. Bond isn't in this scene, of course, but it is undeniably Bondian.
12. Tomorrow Never Dies

In Tomorrow Never Dies, psychotic media mogul Elliot Carver tasks the eccentric Dr. Kaufman with killing his wife Paris and James Bond, then staging the scene to make it look like a murder/suicide. Kaufman is a ridiculously well-mannered German professional played by the late, great Vincent Schiavelli. In his one and only scene in the movie, Kaufman has already killed Bond's old flame Paris. She lies dead in Bond's Hamburg hotel room while Kaufman holds Bond at gunpoint.

Before Kaufman can kill Bond, he receives a call from Stamper, Carver's henchman. He's in a nearby parking garage with his men, trying to get into Bond's BMW, and wants Kaufman to ask Bond how to get in. Kaufman apologizes to Bond for the inconvenience ("I feel like an idiot. I don't know what to say.") and asks how to open the car. Bond tosses Kaufman his cell phone and tells him the code to enter – but of course it activates a taser, shocking Kaufman.

Bond aims a gun at Kaufman.

"Wait," Kaufman pleads. "I'm just a professional, doing a job."

"So am I," Bond says, and shoots his ass.

Bond allows himself a nanosecond of sorrow as he quickly kisses Paris' head then escapes out the window.

I love that scene, it's a droll combination of Professor Dent's murder and the scene between Red Grant and Bond on the Orient Express. Schiavelli's performance is sinister and comic, but not too over the top. I almost wish he hadn't died and became a recurring henchman like Jaws.